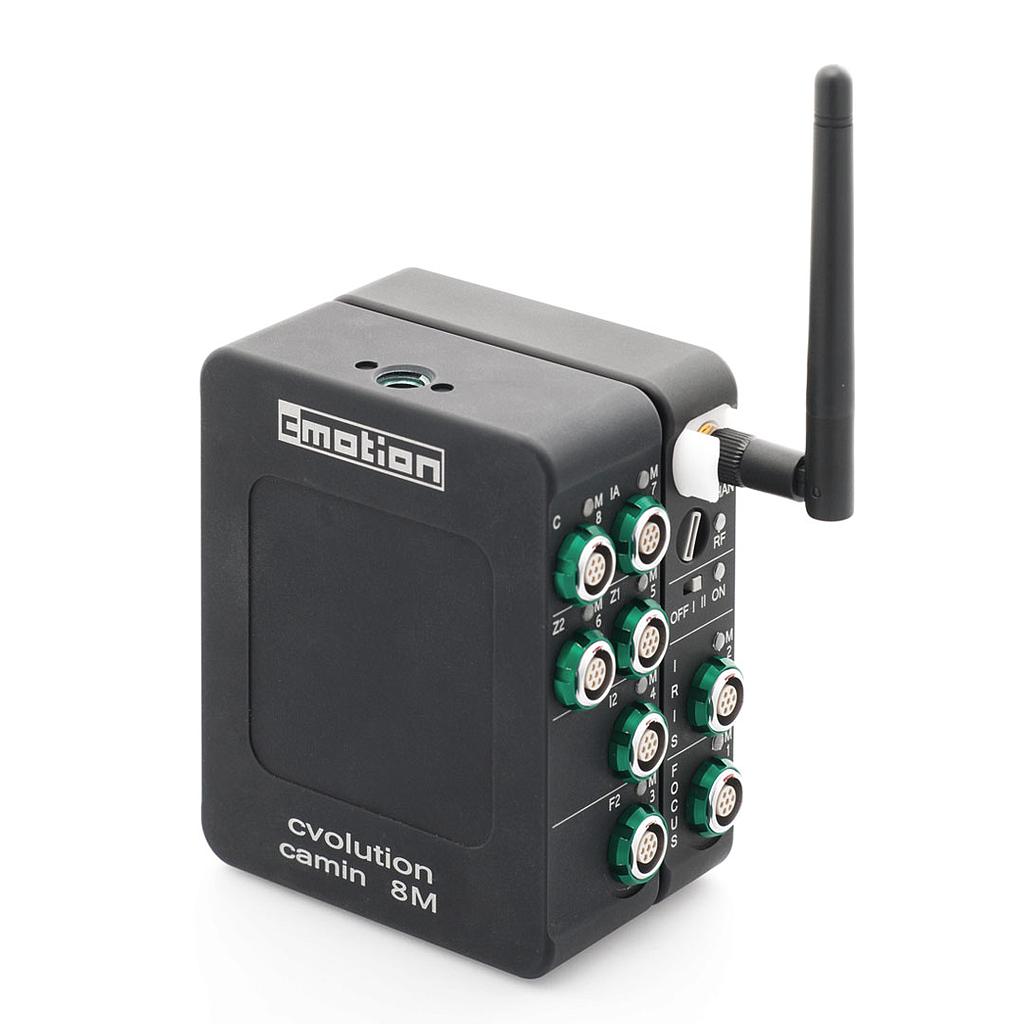 camin 8M ARRI white / L
C0E2-K05
camera interface and control unit for 8 motors, ARRI White Radio Module, compatible with 7 pin Lemo motor cables
* camera interface and control unit for 8 motors * compatible with 7 pin Lemo motor cables * ARRI White Radio Module '''General short description:'''

The camin is the 'brain' of the cvolution lens and camera control system. The camin with ARRI White radio works with up to 3 separate wireless control units, drives lens and /or rig motors and can communicate with most of the popular film and digital cameras used in today's broadcast and motion picture productions. The camin is equipped with an internal power booster. This ensures the digital motors are supplied with a constant and sufficient voltage even when using 12V video batteries. The CBUS (cmotion BUS system) allows for wired connection of numerous cmotion components including the cdisplay II and cfinder. In situations where wireless connectivity is not permitted, there are high levels of interference or wireless connection is not possible e.g. shooting underwater, the hand unit can also be wired to the camin.
The camin is available in 2, 4 and 8 motor configurations and can be upgraded thanks to the modular design. * control up to 8 motors * control Focus, Iris, Zoom and 3d rig axes such as Convergence and Interaxial * automatic motor recognition & motor calibration * start/stop for a wide range of digital and film cameras * wireless or cable operation
Configurations: * The camin 2 M is the basic model with two motor channels. * The camin 4 M is an advanced model driving up to four motors. * The camin 8 M is the top-of-the-line product, capable of driving up to 8 motors. '''We are currently introducing new features to our camin. Highlights among these changes are:''' * Arri Alexa Plus Integration
We are pleased to announce a cooperation with ARRI, in integrating the ARRI Alexa Plus Module into our cvolution system. Our hand units and the cdisplay II will have equal functionality to the ARRI wireless system. * Timecode module for camin
The new 8M camin, named +TC, will enable recording lens, camera and rig data for each frame on USB memory sticks. * Import/Export of User Settings
User data, such as synchronized scales or motor assignment can be stored on a memory stick. Any cvolution camin worldwide will be able to import stored settings and bring your personal preferences to your current system.