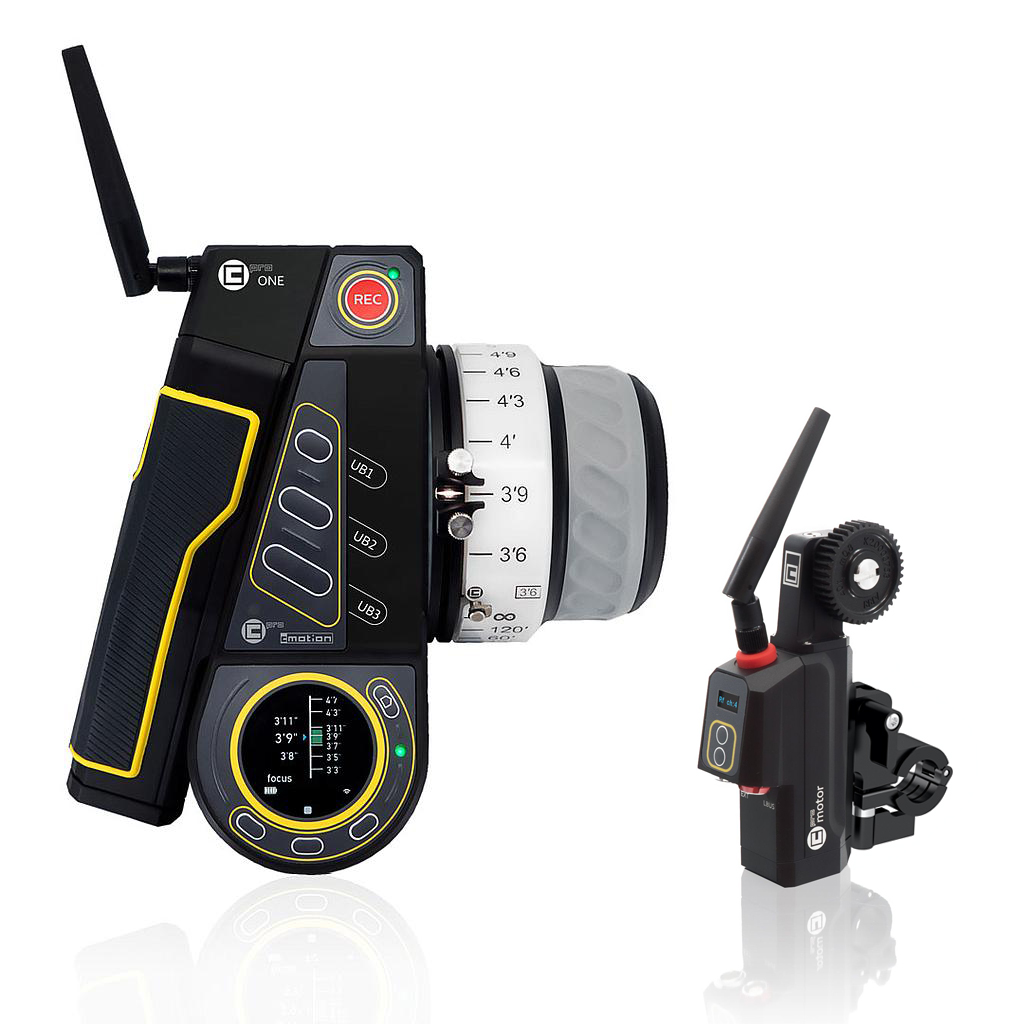 cPRO ONE motor kit, including:
Main components:
PRO ONE hand unit incl.:

plain white focus ring

cPRO motor incl.: 

gear 0.8

cforce mini Clamp Console 2 19/15mm

cstrap

2x cPRO battery (NP-FM500H)

cPRO battery charger (EU plug)

cmotion travel case
Cables: 
K2.0006758 Cable LBUS - D-Tap
cPRO ONE
ergonomic control – feature rich – no compromise
Same ergonomic design, same quality, same rich features – for ONE axis control. 


The NEW cPRO ONE hand unit is the latest addition to the cPRO family. Packed with the same innovative features the cPRO ONE is developed from the original (Cine Gear Technical Award-winning) concept of the cPRO LCS. With its smooth control knob, mechanical limits, and unique "panic button", the cPRO ONE is an ideal addition to any existing cPRO LCS network, allowing any axis to be assigned to an independent wireless controller.
But, that's not all. By assigning the integrated thumbwheel, the cPRO ONE can be used as a versatile two axis controller.  
Compatible with cmotion's Cinefade VariND through either a cPRO motor or cPRO camin, cPRO ONE can also be assigned for dynamic variable ND / RotaPola control or the (Cinec Award-winning) Cinefade effect, independent from the focus puller.
Whether you are looking to split out iris control from an existing cPRO LCS, get creative with the Cinefade VariND, or simply start out with a new revolutionary ONE (or two) axis lens control system, cPRO has you covered.
Wireless ONE (+1) axis LCS
The cPRO ONE offers the perfect starter kit for a ONE (or 2) axis wireless lens control system when paired with either a cPRO motor or cPRO camin.

Cinefade kits
The cPRO ONE kit can be used as an independent wireless solution for the cmotion Cinefade VariND. The knob or thumbwheel can be assigned to remotely and dynamically control the RotaPola or variable ND. And, when synchronized with the iris motor, can change the depth of field in a shot, known as the Cinefade effect.



Networking compatibility
Whether you are looking to split out iris control or independently control the cmotion's VariND / RotaPola or Cinefade effect, the network function allows 2 cPRO hand units to communicate seamlessly with the same cPRO motor or cPRO camin. This feature is possible using 2 x cPRO hand units,   2 x cPRO ONE hand units, or one of each.


cPRO software features
The cPRO ONE will offer all software features of the cPRO hand unit (except slider and zoom settings), making it the most advanced one axis control on the market.



No compromise
The cPRO ONE offers the same build quality, ergonomic design, and hardware features as the cPRO hand unit (except slider and zoom). An affordable ONE axis LCS without compromise.