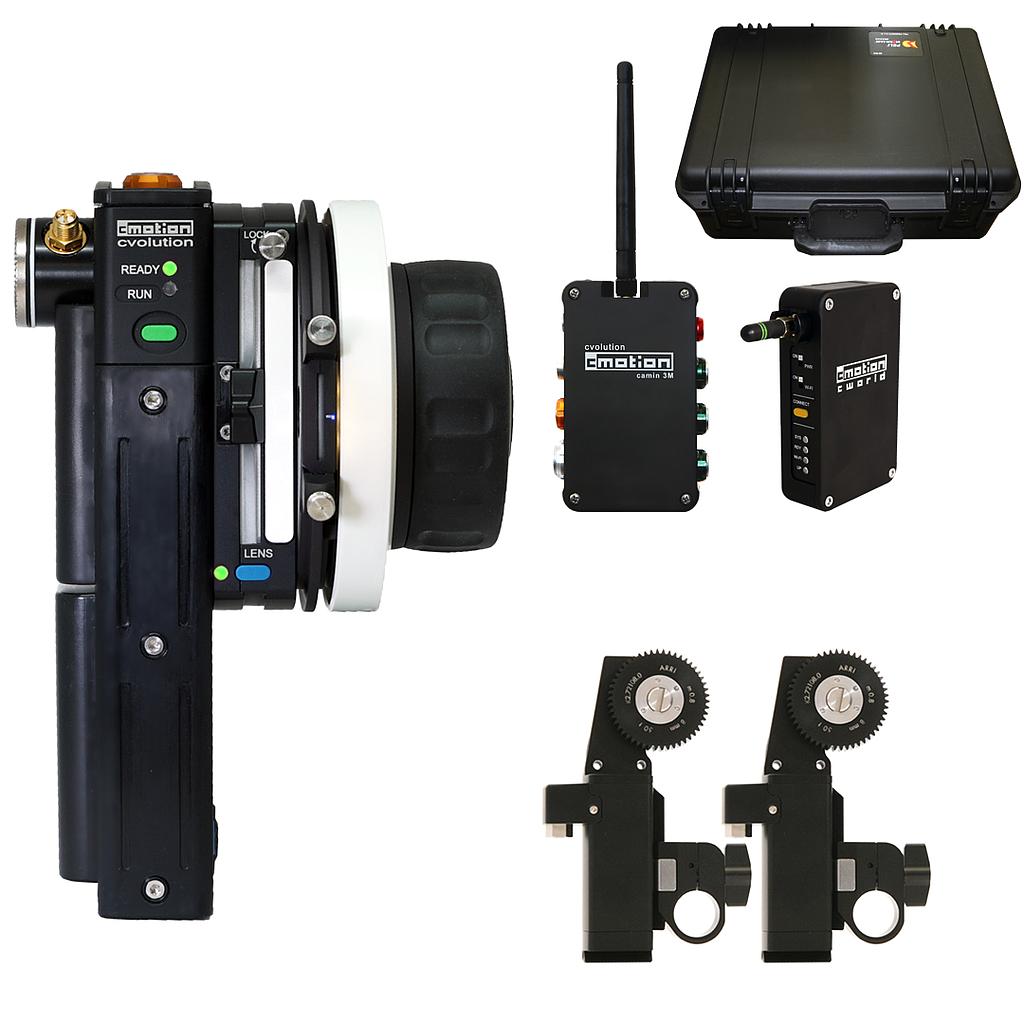 C2-Set advanced (Lemo) with cworld
A079
Ready to use 2 motor wireless lens control set with advanced focus knob, iris slider, Lemo 7pin motor connectors and cworld
C2 advanced set (L) with cworld: This ready to use 2 motor wireless lens control set offers a professional wireless focus and iris control solution for any camera on either 15mm or 19mm support systems. The compact and lightweight camin 3M can drive up to 3 regular motors and / or up to 3 cforce motors. The hand unit comes with an advanced focus knob and an iris slider. The advanced knob offers torque adjustment, mechanical limits, back-lit maker ring illumination and mechanical lock. All compatible in either right or left handed configurations. The internal display and simple interface provides quick and easy wireless access to system settings within the camin motor box.

cworld: creates a wireless network between your cmotion system and existing smart devices. Using any popular smart phone, tablet or computer, cmotion's user friendly web-based interface allows you to update firmware on all of your cvolution components, change system settings and create, edit, display and share precise data for individual lenses. The smart range finder application provides a wireless distance read out when range measurement tools including cmotion's cfinder, ARRI's UDM, Cinetape and Ward's Sniper are connected. cworld also cleverly allows multiple devices to be connected simultaneously, providing crew with independent access to live lens / distance data and numerous user guides from anywhere on set at any time.
This set includes 2 ARRI CLM-4 motor kits - at less than 20dB, CLM-4 are among the quietest motors on the market.


Set components:
camin 3M with ARRI white RF and 3 x Lemo 7pin motor connectors (incl. fastening tool for 15mm/19mm support rods)
hand unit with ARRI White RF and advanced focus knob (incl. 1 marker ring) and iris slider (incl. 1 removable marker strip)

2 x CLM-4 motor set (incl. 0.8m motor cable, 15mm/19mm bracket, 0.4, 0.5, 0.6, 0.8 mm gears and one gear carrier)
universal motor extension bracket

cstrap (neck/shoulder carry strap)
2 hand unit batteries
battery charger
D-Tap power cable
cworld cvolution package
flight case
CBUS cable 0.8m
spare antenna
6 plain marker rings
6 pre-engraved linear marker rings (3 x metric, 3 x imperial)
USB drive (for firmware updates)
All new cvolution sets are equipped with ARRI White wireless technology. This enables direct wireless compatibility between the hand unit and both ARRI ALEXA Plus and ARRI ALEXA Mini cameras.
This set can be expanded by upgrading the hand unit with a zoom control module and connecting an additional motor.